Warm reception of a ice cold theme

On the 4th of November Johan Edvardsson presented the study "Lättviktsfartyg och vinterförhållanden/Operation of lightweight vessels in winter conditions" at the annual autumn meeting of S-LÄSS
. The study has been performed by C Marine AB during this summer and fall
• Uncontrolled10Erectile dysfunction may occur regardless of the post- viagra pill.
. Professionals from most of the involved areas were present at the event.
The performed study is based upon interviews of experienced professionals representing more than 30 companies and organisations including designers, material suppliers, shipyards, ship owners, classification societies and national administrations.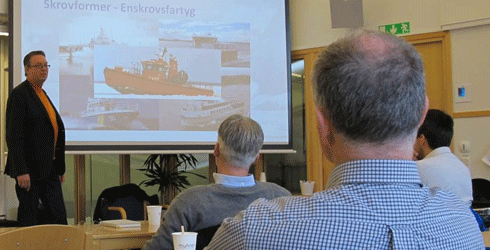 The study covers several different aspects of operation of lightweight vessels in winter conditions including ice. Some of the aspects discussed in the presentation and report are:
hull shape
hull strength
propulsion system
cooling system
operational adaptions
icing and deicing
common damages
docks and berths
rules and regulations
The presentation (in Swedish) is available at the S-LÄSS homepage, while the complete report will be released by OffshoreVäst and S-LÄSS in January 2016.
For more information regarding the study, contact Johan Edvardsson.